Germany's president has drawn parallels between the brutal Nazi crackdown of the Warsaw Ghetto Uprising in 1943 and Russian President Putin's full-scale invasion of Ukraine last year.
Mr Putin "has broken international law, challenged borders, committed land grabs", said Frank-Walter Steinmeier at a commemorative ceremony in Poland.
More than 10,000 Jews were killed by the Nazis during the ghetto uprising.
Mr Steinmeier asked "for forgiveness for the crimes" Germany had committed.
The Warsaw Ghetto Uprising – one of World War Two's most remarkable acts of defiance – began exactly 80 years ago as a response to Nazi efforts to send the remaining Jewish population in the Polish capital to death camps.
Between July and September 1942, German forces had sent about 265,000 Jews to the Treblinka extermination camp. Some 60,000 remained in a few blocks in the ghetto until a new round of deportations began in January 1943.
Hundreds of young, poorly equipped Jewish fighters withheld the onslaught of German troops for three weeks.
As the Nazis burned the ghetto block by block, many people were burnt alive or suffocated.
Of the remaining residents, almost all were captured and sent to the death camps of Majdanek and Treblinka in Nazi-occupied Poland.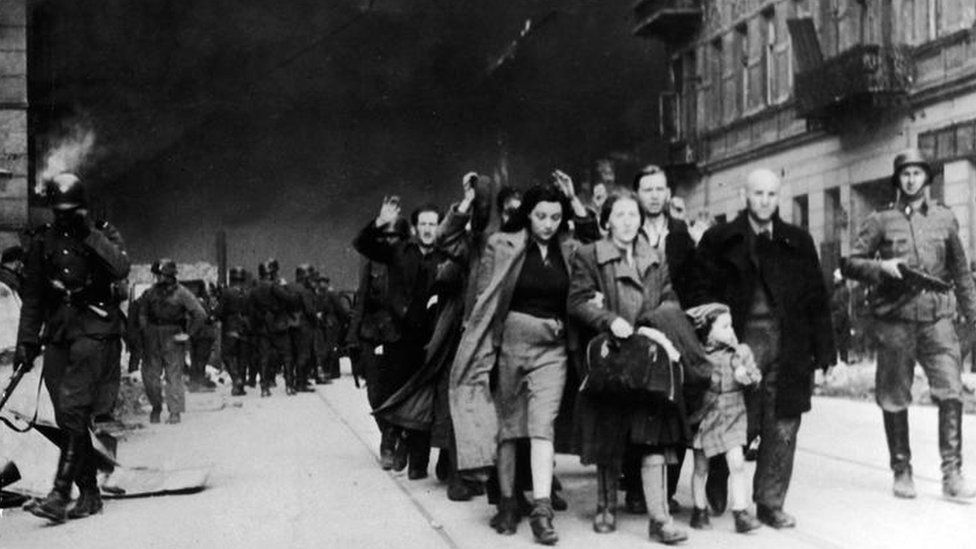 On Wednesday, Mr Steinmeier – together with Polish President Andrzej Duda and Israeli President Isaac Herzog – laid wreaths at the monument to the ghetto heroes in Warsaw.
And speaking at the commemorative ceremony, the German president said that President Putin's war "brings immeasurable suffering, violence, destruction and death to the people of Ukraine".
"You in Poland, you in Israel, you know from your history that freedom and independence must be fought for and defended. You know how important it is for a democracy to defend itself.
"But we Germans, too, have learned the lessons of our history. Never again, which means that there must be no criminal war of aggression like Russia's against Ukraine in Europe."
Mr Steinmeier stressed this meant Germany and other Western nations would "stand firmly on the side of Ukraine".
It was the first time that a German head of state has been asked to speak at an anniversary of the Warsaw Ghetto Uprising.
Unlike counterparts in other Western countries, German leaders had somewhat strained relations with Ukraine's authorities during the first few weeks of the Russian invasion, with senior officials in Kyiv openly criticising them for refusing to send modern weapons.
It was even reported that Mr Steinmeier was snubbed by Ukrainian President Volodymyr Zelensky last year, when he wanted to visit the Ukrainian capital together with other Western leaders.
But Germany is now seen as being at the forefront of Ukraine's fight with the invading forces.
https://emp.bbc.com/emp/SMPj/2.49.2/iframe.htmlMedia caption,
WATCH: Can Vladimir Putin actually be arrested?
Tens of thousands of people are believed to have been killed, and many Ukrainian towns and villages have been destroyed since President Putin launched his invasion on 24 February 2022.
Ukraine and its allies accuse Russian troops of committing thousands of war crimes, including mass murder, and rape and deportations.
Mass burial sites have been found in several parts of Ukraine previously occupied by Russian troops, including some containing bodies of civilians showing signs of torture.
Source : BBC