A jail term for a far-left extremist who took part in violent attacks on neo-Nazis has caused uproar on both the left and right of German politics.
Lina E was given a sentence of five years and three months – but was also told she is now free pending an appeal, having been in custody since 2020.
Three men convicted with her were also given jail sentences on Wednesday.
Left-wing protesters demonstrated in several cities against the verdicts. A big rally has been banned in Leipzig.
Other Germans were angered by the decision to release Lina E – criminal defendants' second names are not made public – after two and a half years in custody – believing this sends a signal to the left that violence against the extreme right is acceptable.
The judge, Hans Schlüter-Staats, said Lina E would be allowed out pending the result of her appeal. She is said to be unwell and has had to hand in her identity card and passport.
Delivering his verdict, the judge said that "opposing right-wing extremists is a respectable motive", but use of force was only for the state and her actions were still "serious criminal acts". He criticised her defence lawyers' argument that the case was politically motivated.
Lina E was seen as the ringleader of her far-left group which waged a brutal campaign of violence against the extreme right for several years – using hammers, iron bars and baseball bats.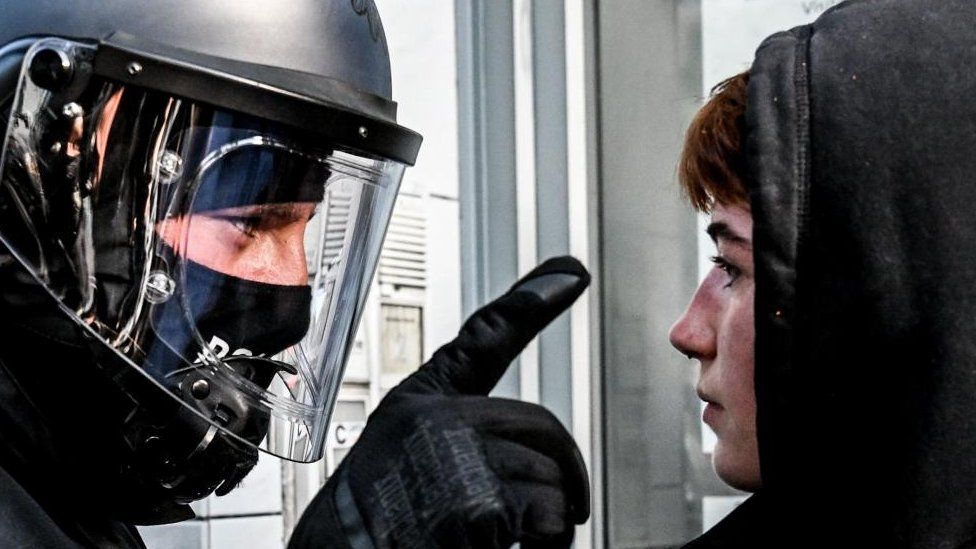 In one attack in 2019, the gang attacked a well-known neo-Nazi pub called the Bull's Eye in the town of Eisenach, beating its owner Leon R. They attacked him again weeks later. Leon R was later arrested in a police operation targeting neo-Nazis across Germany.
The far-left militant group gained notoriety for its violence, attracting the name "hammer gang". Lina E's partner Johann G is also suspected of attacks and has since gone to ground.
In another incident in 2020 involving at least 15 people, a group were beaten up as they returned from a ceremony marking the firebombing of Dresden during World War Two. Several victims suffered serious injuries.
Lina E was detained in November 2020. Her surname has not been made public. Three men who joined her gang were given sentences of 27 to 39 months in jail.
Sabine Volk, a researcher on the far right from the University of Passau, said that the crimes committed by the gang were horrible but that there appeared to be a "power imbalance" in eastern Germany against the far left.
"In radical left circles there's this perception and narrative that the state isn't doing anything against the neo-Nazi scene and that's why they have to take over their duties," she told the BBC. "It's not entirely true but it's not far-fetched either."
Last December, after years of being dismissed as harmless cranks, 25 people were arrested on suspicion of plotting to overthrow the German government on behalf of the far-right Reichsbürger (Citizens of the Reich) movement
After Lina E was found guilty, there were far-left protests in several cities and police were targeted with bottles and fireworks.
Meanwhile, the head of the police union, Jochen Kopelke, said officers were shaking their heads that she had been released: "It was clear to us as officers that we would also be the focus of extremists."
Interior Minister Nancy Faeser has warned of an increasing willingness among the far left to resort to violence. However, she said last week that right-wing extremism remained the biggest radical threat to German democracy and that attacks last year rose by 12%.
An anti-fascist "Day X" march planned for Saturday has been banned in Leipzig, where Lina E was a student, because police are concerned it could descend into violence. But a major police operation is planned anyway, as several major events are due to take place in the city.
The far-right AfD party condemned the decision to release Lina E as "soft" and complained there had been a failure of the rule of law.
The AfD has risen in German opinion polls in recent months as dissatisfaction grows with the coalition government. The latest poll puts them neck and neck with Chancellor Olaf Scholz's centre-left SPD on 18%.
The AfD has also benefited from a backlash among German voters from climate activist protests that have blockaded streets in key cities.
Hans-Georg Maassen, a former German spy chief who is seen as a right-wing conservative, ridiculed Lina E's sentence as giving free rein to far-left activists to stage further violent attacks.
Source : BBC
.