A 21-year-old woman has died after she was attacked and thrown from a hill at the historic Neuschwanstein Castle in southern Germany on Wednesday.
Prosecutors said the woman – who has not been named but is believed to be a US tourist – died overnight after she was shoved 50 metres into a gorge.
Her friend, a 22-year old woman, remains in hospital with serious injuries after she was also pushed when she attempted to stop the assailant.
A US man was detained over the attack.
The 30-year-old tourist, who has not been named by police, initially fled the scene, officers said.
He was later detained on Wednesday after a massive police manhunt involving more than 25 vehicles and was taken to a police station in nearby Fuessen in Bavaria state.
In a statement, police said they believed the man met the women – who German media reported were both American citizens – on a trail near the Marienbrücke bridge. The spot is a popular viewpoint used by tourists to view the castle.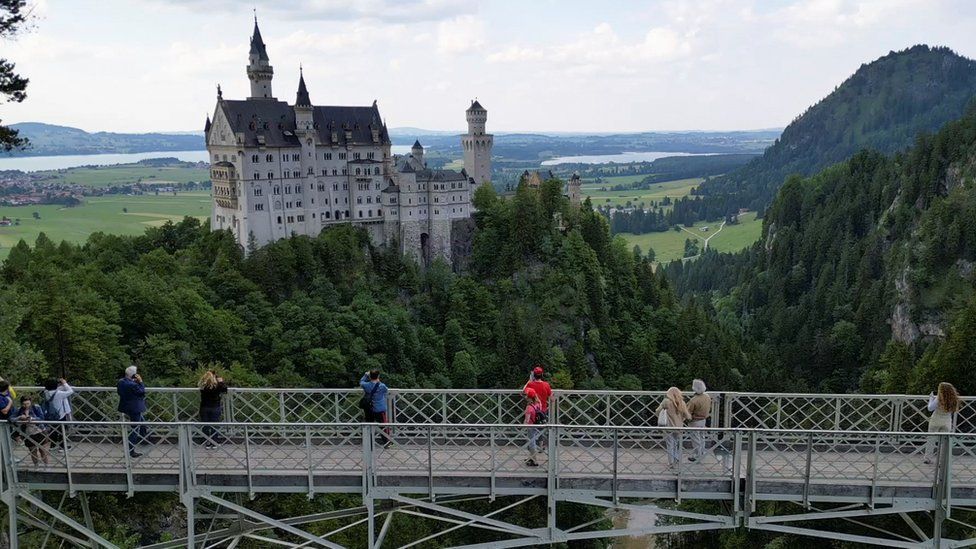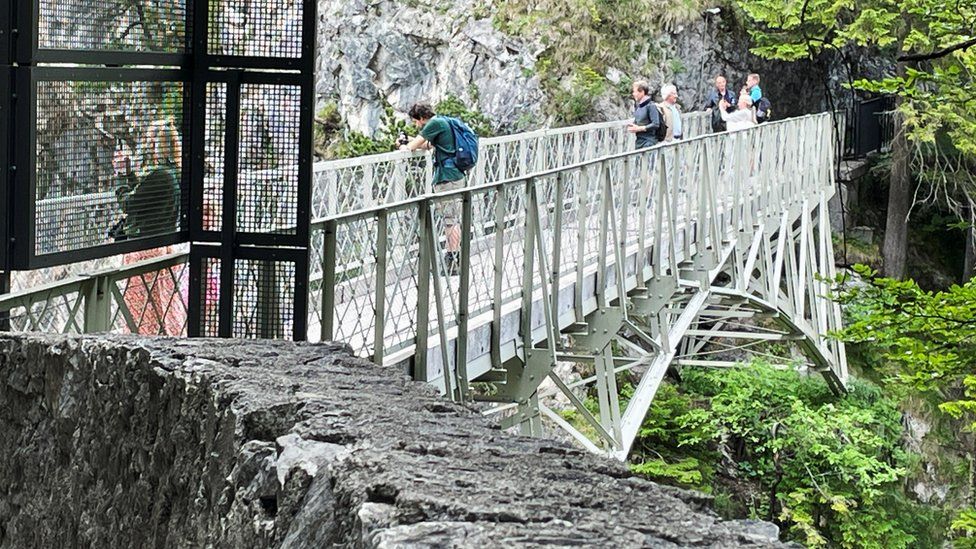 He then led them to a hidden trail, on the pretext that the way to the bridge was difficult to navigate, before attacking the 21-year old woman.
"When the 22-year-old wanted to intervene, he choked her and then pushed her down a steep slope," Bavarian police said in a statement.
Officers said that "an attempted sexual offence to the detriment of the 21-year-old must be assumed".
"He then pushed her down the slope, where she came to rest about 50 meters next to her friend," they added.
The 21-year-old woman was taken to hospital by helicopter, but later died from her injuries. Her friend, who is said to be in a serious condition, was responsive when found by police.
Another American tourist, who witnessed the rescue and arrest, told the Associated Press that the man had scratches across his face as he walked with police.
"I'm honestly absolutely stunned someone is still alive from this," Eric Abneri added. "It is like falling from the top of an absolute cliff."
He said rescue services had done "an unbelievable job" performing "a very, very difficult rescue".
The man appeared at the Kempten District Court on Thursday, where the investigating judge issued an arrest warrant and the man was remanded into custody.
He is under investigation for murder, attempted murder and attempted sexual assault.
Senior public prosecutor Thomas Hormann told reporters that the investigation into the incident was just beginning.
Neuschwanstein is one of Germany's most popular tourist attractions. More than 1.3 million people visit the site annually, according to the Bavarian finance ministry.
Sitting around 126km (78 miles) from Munich, it was built in the 19th century and intended to serve as a residence for the rulers of the region, but was never occupied.
Source : BBC