German rescuers have called off a search for four crew missing from a British ship that sank in the North Sea early on Tuesday morning.
The Verity collided with a larger ship, the Bahamian Polesie, off the German coast.
Rescue efforts were suspended on Tuesday night and would not be resumed, the rescue service said.
Two of the seven crew members on board the British-flagged ship were rescued.
The body of another member was found in the water, about 22km (13 miles) south-west of Heligoland, a German archipelago which is part of the state of Schleswig-Holstein.
The Verity was on its way to the UK, carrying steel from the northern German city of Bremen to Immingham in Lincolnshire, when it collided at about 05:00 (03:00 GMT) on Tuesday with the Polesie, which had left Hamburg for La Coruña in Spain.
None of the 22 crew on the Polesie was hurt. The cause of the collision is still unclear.
Two sea rescue cruisers from the German maritime search and rescue service, a German navy helicopter and a water police boat were used in the search efforts, the rescue service said.
Rescue divers had attempted to find signs of life in the wreck but said they were hampered by difficult conditions.
The German Central Command for Maritime Emergencies said conditions around the wreck were "very difficult", with visibility of only one to two metres, and that strong currents had hampered rescue efforts before they were called off.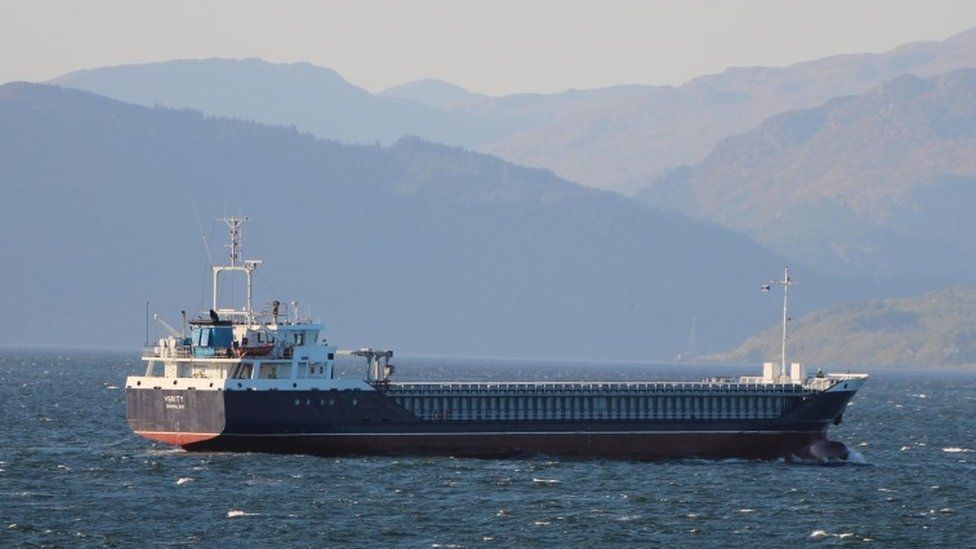 A P&O cruise ship, the Iona, was in the area and also contributed to the search.
Passengers were informed at around 05:30 local time that the ship was helping with search efforts. The company confirmed to ITV that the Iona had fulfilled its obligations under "international and moral law".
The Iona, which left Southampton on Saturday bound for stops in Hamburg, Rotterdam and Bruges, was subsequently "released" to continue its journey.
Source : BBC