A Syrian man accused of leading a pro-government militia in Tadamon, a Damascus neighbourhood that was the site of a massacre of civilians in 2013 filmed by its perpetrators and revealed by the Guardian last year, has been arrested in northern Germany.
The suspect, identified as Ahmad H in line with German privacy rules, is the first person to be detained in connection with crimes in Tadamon, where militia and soldiers loyal to the Syrian president, Bashar al-Assad, brutalised the local population – recording some of their acts – in the early years of the country's civil war.
He is accused of crimes against humanity and war crimes including torture and enslavement, prosecutors said on Thursday.
They said the Syrian national was a local leader of the Shabiha, a pro-regime paramilitary group tasked with suppressing political opponents. The group is accused of regularly detaining civilians at checkpoints in Tadamon, whom they tortured, extorted or forced into labour, prosecutors said.
Twenty-seven extremely graphic videos of Shabiha and Syrian soldiers carrying out massacres and disposing of dozens of bodies in the neighbourhood were leaked from a Syrian government laptop to two academics based in Europe in 2019.
The academics – Prof Uğur Üngör, from the University of Amsterdam's Institute of Holocaust and Genocide Studies, and the researcher Annsar Shahhoud –identified many of the perpetrators in the videos, including a Syrian military intelligence official named Amjad Yusuf.
Over the next two years, they befriended Yusuf on Facebook and – using a fake identity – persuaded him to take part in several secretly recorded discussions in which he openly discussed his crimes and motivations.
The story of their investigation and redacted footage of one of the massacres was published by the Guardian in April last year, triggering worldwide condemnation and anger inside Syria's tightly controlled society. Shortly after, in an apparent effort to quell discontent, the Assad government released scores of long-term political prisoners.
Üngör and Shahhoud turned over the footage of the killings and their interviews to investigators in France, Germany and the Netherlands, where authorities have opened war crimes investigations and sought to hunt down any perpetrators who may have fled to Europe.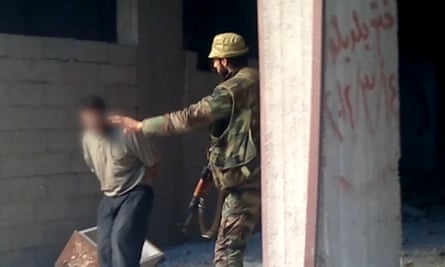 Ahmad H, understood by the Guardian to be an associate of Yusuf, is accused of "personally participating in the abuse of civilians in various occasions", German prosecutors said.
They allege he slapped a man in one incident in 2013 and then ordered his colleagues to beat him with plastic pipes for several hours. In another incident from autumn 2014, Ahmad H is accused of taking part in the beating of a civilian at a checkpoint.
"The accused grabbed the victim's hair and slammed his head onto the sidewalk," the statement said. He is also accused of forcing between 25 and 30 people to work for a day transporting sandbags to a frontline.
Germany has allowed hundreds of thousands of Syrian refugees to resettle in its country since the outbreak of the civil war in 2011. The overwhelming majority were civilians who fled violence, but among their ranks were some pro-regime leaders and fighters.
Since then, German prosecutors have sought to use the country's universal jurisdiction laws – permitting the state to prosecute crimes against humanity regardless of where they took place – to hold Syrian war criminals accountable.
In a historic ruling in February last year, Anwar Raslan, a former Syrian secret police officer, was sentenced to life in prison for crimes against humanity for his part in overseeing the deaths of 27 detainees and the torture of at least 4,000 others at a jail near Damascus.
Earlier this year, a Palestinian man living in Syria and who fled to Germany was sentenced to life in prison for firing a grenade into a crowd of civilians in a Damascus suburb in 2014.
Ahmad H was arrested in Bremen on Wednesday and has been remanded in pre-trial detention.
Source : The Guardian