Torrential rain in Germany has turned the grounds of the world's largest heavy metal festival into a mudbath, forcing organisers to turn many ticket holders away.
Wacken Open Air in Schleswig-Holstein, northern Germany, opened on Wednesday and by the same evening the festival said newcomers would be refused access to the site due to what it called unmanageable conditions.
"It does sometimes rain at festivals, but rarely so much as we've seen," a statement said.
The four-day festival's lineup features about 200 bands from across the world, from Ukraine to Japan. Headliners Iron Maiden are scheduled to perform on Friday evening, along with Megadeth. Other acts include Uriah Heep, Heaven Shall Burn and Dropkick Murphys and the local community's firefighter band, the Wacken Firefighters, who waded through the mud to get to the stage on Wednesday, to huge applause. Six bands were believed to have cancelled.
In its appeal to ticket holders who had not yet arrived to stay away after the campsite was flooded, the organisers said the "sensible level of visitors" had been reached and those who had either made the decision to leave or had yet to arrive would receive a refund.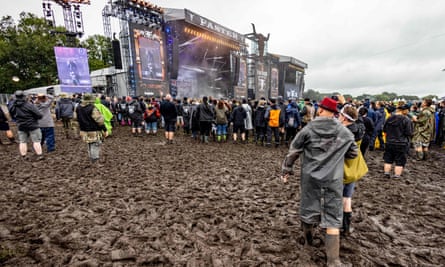 Organisers confirmed it was the first time they had made such a decision in the festival's 33-year history. "We are very sad but the continuing difficult weather situation unfortunately leaves us with no other choice."
While some ticket holders, forced to wait for entry outside the grounds before being turned away, criticised the decision and lack of communication, others on site used the opportunity to engage in mud fights, insisting they would not be put off from having fun.
This year's festival, which attracts fans from around the world, is taking place under the motto: "Louder than hell." Among its credentials are that it attracts the largest number of female bands of any heavy metal festival, including Brazil's Nervosa, and Beyond the Black from Germany.
Fans in search of some peace and quiet can head to the festival sidelines for readings, discussion panels and "Metal Yoga", which promises to give relief to necks and shoulders strained by too much head banging.
Source : The Guardian