Human rights experts and campaigners have warned against an intensifying crackdown on climate protests across Europe, as Guardian research found countries across the continent using repressive measures to silence activists.
In Germany, France, Italy, Sweden, the Netherlands and the UK, authorities have responded to climate protests with mass arrests, the passing of draconian new laws, the imposing of severe sentences for non-violent protests and the labelling of activists as hooligans, saboteurs or eco-terrorists.
The crackdowns have come in spite of calls by senior human rights advocates and environmental campaigners to allow civic space for the right to non-violent protest, after a summer of record-breaking heat in southern Europe that is attributed to the effects of climate breakdown.
The UK has led the way in the crackdown, experts say, with judges recently refusing an appeal against multi-year sentences for climate activists who blocked a motorway bridge in east London. The three-year jail terms for Marcus Decker and Morgan Trowland earlier this year are thought to be the longest handed out by a British judge for non-violent protest.
The ruling came as protesters in the UK try to navigate a new legal environment that includes significant limits on the right to protest, including two wide-ranging new laws passed in the past two years giving police the discretion to ban protests regarded as "disruptive" and criminalising a host of protest tactics.
Michel Forst, the UN rapporteur on environmental defenders since June last year, described the situation in the UK as "terrifying". He added that other countries were "looking at the UK examples with a view to passing similar laws in their own countries, which will have a devastating effect for Europe".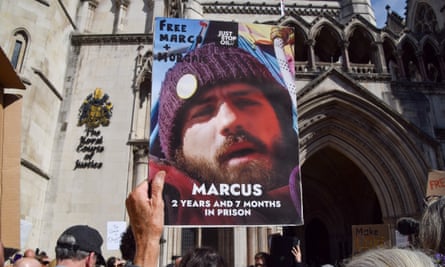 "Since my appointment I have been travelling to many countries in Europe and there is a clear trend," Forst told the Guardian. "We can see an increasing number of cases by which these climate activists are brought to court more and more often and more and more severe laws being passed to facilitate these attacks on defenders."
He added: "I'm sure that there is European cooperation among the police forces against these kinds of activities. My concern is that when [governments] are calling these people eco-terrorists, or are using new forms of vilifications and defamation … it has a huge impact on how the population may perceive them and the cause for which these people are fighting. It is a huge concern for me."
Amnesty International said it was investigating a continent-wide crackdown on protest. Catrinel Motoc, the organisation's senior campaigner on civil space and right to protest in Europe, said: "People all around the world are bravely raising their voices to call for urgent actions on the climate crisis but many face dire consequences for their peaceful activism.
"Peaceful protesters are left with no choice but to stage public protests and non-violent direct actions because European countries are not doing enough to tackle the climate crisis.
"There's alarming evidence of criminalisation, harassment, stigmatisation and negative rhetoric towards environmental defenders."
Motoc said that instead of demonising and restricting peaceful environmental defenders, "European governments should put [their] energy into open dialogue with activists and organisations to fix the problems of climate crisis. Climate protesters are not a nuisance, and they should not be silenced or crushed."
In June, Dunja Mijatović, the Council of Europe's commissioner for human rights, also called for an end to crackdowns on environmental activists. Last December, Volker Türk, the UN's high commissioner for human rights, appealed to governments to protect the "civic space" for young environmental activists, and "not crack down in a way that we have seen in many parts of the world".
There was widespread outrage this summer when France's interior minister, Gérald Darmanin, used one of the state's most-powerful tools to order the banning of one of the country's leading environmental protest groups.
Les Soulévements de la Terre, a collective of local environmental campaigns, had staged a series of protests, with tactics including sabotage, that ended with violent confrontations with police, and Darmanin denouncing the activists as "far left" and "ecoterrorists".
In the Netherlands, one of a series of roadblock protests on the A12 highway in The Hague in May was dispersed by police using water cannon, with more than 1,500 arrested. Seven climate activists were convicted of sedition – a charge that had never before been levelled against climate protesters – in relation to online posts calling for people to join an earlier demonstration.
In Sweden, about two dozen members of the Återställ Våtmarker [Restore Wetlands] group were convicted of sabotage for blocking highways in the capital, Stockholm. Others were held on remand for up to four weeks for taking part in protests.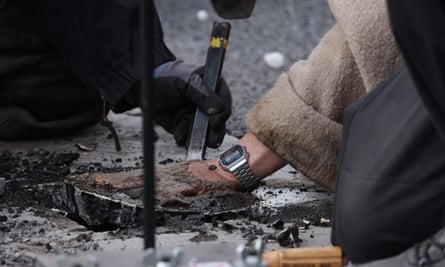 In Germany in May, police staged nationwide raids against the Letzte Generation (Last Generation) group, whose supporters had glued themselves to roads on a near-weekly basis for months, as well as targeting art galleries and other cultural spaces. On a police directive, the homepage of the group was shut down and possessions belonging to members were seized.
At the most recent count, supplied by the activists, police had made more than 4,000 arrests of supporters of Last Generation taking part in road blocks in Berlin alone.
Authorities in Italy have used anti-organised crime laws to crack down on protests, where the Ultima Generazione (also Last Generation) group has staged road blocks since last year. The Digos police unit, which specialises in counter-terrorism, in April justified the use of anti-Mafia laws to target the group by saying its civil disobedience actions had not taken place spontaneously, but were organised, discussed and weighed up by an internal hierarchy. This came along with new, stiffer penalties for protests, with activists facing fines of up to €40,000 for actions targeting artworks and other cultural heritage.
Richard Pearshouse, director of the environment division at Human Rights Watch, said: "These restrictions on environmental protest across Europe and the UK are incredibly short-sighted. These governments haven't grasped that we all have a huge interest in more people taking to the streets to demand better environmental protection and more climate action.
"Governments need to respect the rights to assembly and expression, and ramp up their own environmental protections and climate ambitions. That's the only way we have a chance to get out of this climate crisis with our democratic institutions intact."
A spokesperson for the UK Home Office said: "The right to protest is a fundamental part of our democracy but we must also protect the law-abiding majority's right to go about their daily lives.
"The Public Order Act brings in new criminal offences and proper penalties for selfish, guerrilla protest tactics."
The French interior ministry said local officials had the right to ban demonstrations with a serious risk of disturbing public order. "These one-off bans, of which there are very few in absolute terms, are not imposed because of the reason for the demonstration."

The Italian interior ministry referred to a statement from the culture minister Gennaro Sangiuliano in April, who said attacks on monuments cause economic damage to the community that is is expensive to clean up. "Those who cause damage must pay personally."

The German interior ministry declined to comment. The Bavarian interior ministry referred the Guardian to the public prosecutor's office in Munich, which provided a statement from June in which it confirmed it had authorised the tapping of phones for six of seven Last Generation members under criminal investigation.
The Swedish interior ministry declined to comment. The Dutch ministry of justice did not respond to requests for comment.
Source : The Guardian