Rolling hills, chequered tablecloths, the saturated hue of an Aperol spritz, and the Leaning Tower: this is what Italy looks like to many non-Italians. Now add some music: chances are, it's something like the treacly, over-orchestrated Sarà Perché Ti Amo by Ricchi e Poveri. "You have a soundtrack that is always the same: for many people, this is Italy," indie musician, composer and singer Francesco Wilking tells me over the phone.
Wilking, who grew up in Germany to an Italian mother and a German father, sought a different type of Italian sound – more melodically subdued, less camply sentimental, taking inspiration from the poetry of singer-songwriters such as Lucio Battisti and Fabrizio De André – and set up Crucchi Gang, a band project covering German songs from the 1980s and songs by contemporary German indie bands in Italian. Their self-titled debut came out to critical acclaim in 2020, climbing to No 34 in the German album charts. Its follow up, Fellini, came out earlier this year.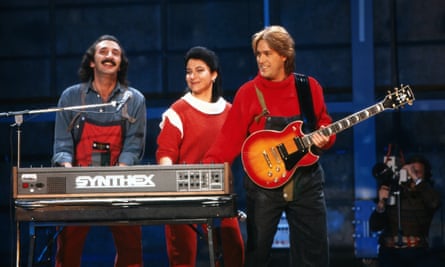 Crucchi Gang is at the vanguard of a curious revival of 80s Italo-pop in Germany in the 2020s, some of it driven by a serious engagement with the genre's history and the musicality of the Italian language, some of it driven by pure nostalgia.
In 2022, Bavarian Italo-pop act Roy Bianco and the Abbrunzati Boys topped the German album charts with their album Mille Grazie, ousting the Red Hot Chili Peppers. That same summer, German Rolling Stone columnist and musician Eric Pfeil entered Der Spiegel's bestseller list with Azzurro, a guide-cum-essay-collection celebrating 100 Italian songs that it places in their cultural and historical context.
Walk through the fashionable quarters of Berlin this August and you won't be able to move for hip Germans wearing T-shirts, tote bags or tennis socks in 80s colour schemes bearing the words "Amore" – the name of a Neukölln store specialising in food and fashion d'Italia. On their headphones, they might be listening to Toscana Fanboys, a duet by German dancehall singer Peter Fox and 85-year-old canzone legend Adriano Celentano released in May this year.
Not all songs blaring out of German speakers over the last two summers have been so tongue-in-cheek or culturally erudite. German-Italian singer Giovanni Zarrella's Per Sempre, decidedly unironic crooner-style covers of international hits such as Robbie Williams's Angel and Michael Bublé's Home, climbed to the top of the German charts last August, one position higher than his 2019 homage to German schlager titans Roland Kaiser and Wolfgang Petry. Even Sarà Perché Ti Amo is back in the charts in Austria, Germany and Switzerland, after going viral on TikTok.
Germany has a long history of turning to Italy for soaring melodies. Italian used to be the standard language that German composers such as Georg Friedrich Handel wrote their libretti in until The Magic Flute popularised German-language opera in 1791.
In the postwar 20th century, the Sanremo music festival was so popular across Europe that it served as the inspiration for the Eurovision song contest. A 1955 recruiting agreement with Italy over temporary workers, and the 1960s economic boom that sent the Federal Republic's citizens on regular holidays in the Mediterranean area made Italian popular music part of the German cultural vernacular. The craze for Italian pop reached fever pitch between the late 1970s and early 1980s, mostly via artists signed to the Baby Records label.
Their stable of mainstream singers, including the Genoan Mamas and Papas, Ricchi e Poveri, and real-life couple Al Bano & Romina Power, embodied the idea of a sun-drenched Italy marked by fancy-free lifestyles. "Happiness is a night with a full moon and the radio on, a happy birthday card full of little hearts," Al Bano and Power sang in Felicità, a monster hit that spent 40 weeks in the German charts in 1982.
"Baby Records came at the right time at the right place, just when disco started gaining popularity," says music scholar, producer and curator Beppe Savoni, whose Instagram project @disco_bambino is an ever-evolving digital archive of Italian pop and disco between the 70s and 80s. "No other label did what they did: they were perhaps the only ones who managed to produce records that were played both in discotheques and at Sanremo music festival."
The reason why these hits worked so well in German-speaking countries boils down to a sound that rang exotic, yet familiar. "These melodies are reminiscent of the typical German-language partyschlager, but they were sung by Italians: these songs piqued the interest of those Germans that were enamoured with Italian culture," Savoni says. "All of these Italian acts that became popular in Germany at that time achieved success through very melodic tracks: there's no such thing as an Italian Kraftwerk-like act that became a huge hit in Germany."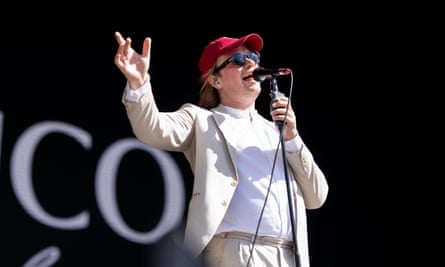 Germany's own complicated relationship with the past also played a role. "If, as a German, you go to other countries, and you hear the music from the 60s from France or from Italy, then you really are fascinated and you think 'it's beautiful, why don't we have that?'", says Crucchi Gang's Wilking. The Nazi era created a cultural rupture that meant German popular music was never again as fun and innocent as it was in the Weimar Republic, he argues. "All the cool people making good music in 1920s and 1930s Berlin had been Jews."
The current revival was partly inspired by the pandemic. When Crucchi Gang released their debut album, Wilking recalls, people were mostly stuck inside because of lockdowns. "We came up with this record in the summer of 2020. People were thinking about, say, Sanremo, or Rimini, and they couldn't go there," he says. "A lot of photo books with pictures of Italy on their covers went on Der Spiegel's bestseller list in that period because people liked to travel with their ears and with their eyes, as they couldn't do it in person."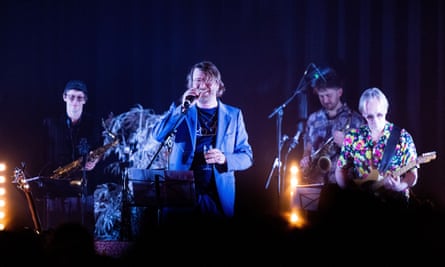 Roy Bianco and the Abbrunzati Boys knowingly nod to the romanticising tendency in Italo-German musical relations. In interviews, the band keeps up an elaborate founding myth that has the band meeting in 1982 on Lake Garda (a spot favoured by German tourists), winning best newcomer act at Rio de Janeiro's Schlagerfestival, breaking up and then reuniting in 2016. In truth, the band's members are in their late 20s to early 30s, and their 2020 Greatest Hits album was their debut. Songs such as Bella Napoli and Velocità toy with the piano-synth-sax arrangements of the 80s, while others, like Amore sul Mare reference the overtly sentimental 90s pop of singers like Nek or Eros Ramazzotti.
Wilking's project is more conceptual. Crucchi is a vaguely pejorative term Italians use to describe Germans and German-speaking South Tyroleans, akin to Kraut. Wilking and his collaborators wanted to show they were in on the joke. Meine Kneipe ("My local"), a tightly packed blast of indie pop by German band Von Wegen Lisbeth released in 2016 becomes Al Mio Locale: "I really like the vibe, the rhythm [of the original]", Wilking says. "I thought it would be cool to transpose into another era of music, like Giorgio Moroder's disco-funk," Wilking says. "You take the language, you translate it into another language; you take a style, you translate it into another musical style."
His Italian friends and acquaintances seem to get it, Wilking said. "We played one big concert in Berlin with many, many Italians, and they were really happy and grateful about that," he recalls. At the concert, at Festsaal Kreuzberg this June, Crucchi Gang didn't just play their own songs but also those of newer Italian singers, such as the rapper Madame. It was an attempt to bridge the gap between the idea of Italy foreigners have, mired in escapism and retromania and the bleaker way Italians see their own country.
"For foreigners and also [specifically] for Germans, a lot of things that for Italians are really clear – politics, corruption, all the things that don't work – they don't exist," he said. "Italy for them is just a beautiful country, and every day only consists of walking on the beach, eating pizza and drinking wine and all the beauty. And for Italians living in Italy, all this beauty does not exist."
Source : The Guardian