A member of a notorious German crime family has offered his help in capturing a suspected escaped lioness in the southern outskirts of Berlin.
Police have been searching for more than a day after being notified about a wild animal on the loose but have yet to find it.
Now, the son of the head of the Remmo family has said he can "lead the lioness back to her enclosure".
Firas Remmo has urged the authorities not to shoot the creature.
In a post on social media, he asked for anyone with information about the animal's whereabouts to "let him know first" so he can step in "before some idiot shoots her".
It is not the first time he has been linked to big cats. In December, he posted a video online of himself and a tiger cub featuring the caption "my new favourite pet", prompting a police investigation.
It is still not clear if the animal being sought is a lioness as no paw-prints or DNA material, such as animal waste, have been found in the areas where the animal was supposedly spotted.
However, police have told the BBC they believe a video widely circulating from the Kleinmachnow area is authentic.
They said two officers had seen the animal about 20m (65ft) away overnight on Thursday and identified it as a "big cat".
Others are not so sure. One expert told Berlin local radio station RBB that, from footage he had seen, the animal looks more like a boar, which are common in the region.
Local zoos, animal sanctuaries and circuses said no lions have escaped from their facilities.
The search for the animal has been intensified on Friday, after being scaled down overnight on the recommendation of experts.
Around 120 police officers and wildlife experts, such as vets, are now scouring local wooded areas. Drones, helicopters and heat-seeking cameras are also being used.
Kleinmachnow Mayor Michael Grubert said the first object of the mission to locate the animal was to capture it but that "other measures will only be taken by police officers if their lives or the lives of others are endangered."
Around a dozen possible sightings of the animal were reported to police overnight, including in the wealthy Zehlendorf area, which is within Berlin's city borders.
However, officers were not amused when young people started playing loud roaring lion sounds on a speaker near to the area where the search was going on.
"That helps neither the local community, nor the police in their search for the animal," police spokeswoman, Kerstin Schröder, told RBB.
Paul Landau, who lives in the area initially being searched, told the Reuters news agency he thought a dangerous person was in the area.
"At first it wasn't clear it was a about a lioness, or a wild animal, they just said keep doors and windows shut and don't let anybody in the house," he said.
"So, we thought it was about a person, not an animal."
Residents have also been told to keep their pets with them and to avoid forest areas.
Wild animal expert Heribert Hofer, from Berlin's Leibniz Institute for Zoo and Wildlife Research, told Reuters that anyone who encounters a wild animal should stop rather than run away.
"You should also avoid, if at all possible, turning your back to the animal. And you should also avoid looking the animal directly in the eye."
The authorities had been focussing their search on a large area next to a wood where people walk their dogs, as they thought the lioness may have been sleeping there.
On Thursday evening, police told a local resident that they had "just seen" the lioness and that the search for the animal had entered a "hot phase", German outlet Bild reported, adding that officers shouted at joggers to "get out of the woods quickly".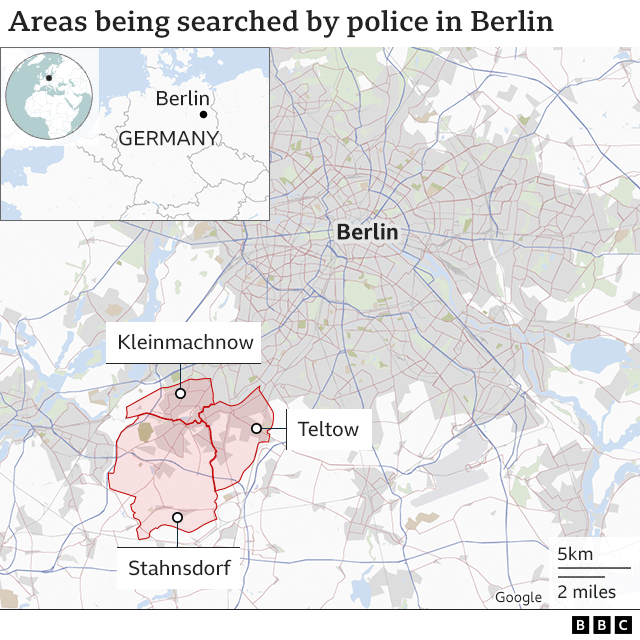 According to Mr Hofer, while it is illegal to keep big cats privately in Berlin, it is possible in the neighbouring state of Brandenburg – the state encircling Germany's capital.
However, the owner must have a certificate and meet other stringent requirements, he told German broadcaster Deutsche Welle.
Vanessa Amoroso, head of the wild animals in trade unit at Four Paws, said inconsistent laws across Europe made the trade of big cats much easier, as they are allowed as pets in many countries.
She called on the German government to regulate those trading and keeping exotic animals.
"Germany's position as one of the world's largest markets for wild animals as pets demands effective measures to counteract the ease with which potential buyers can acquire animals through online platforms and exchanges," she added.
Loïs Lelanchon, from the International Fund for Animal Welfare, said the trend of keeping of exotic pets has been fuelled by social media, with big cats seen as a status symbol.
"This reckless trend needs to stop to prevent animals suffering and risking human lives," he said.
Source : BBC