As sports such as swimming and athletics bring in rules restricting, or even banning, participation for transgender women at the elite level of female sport, world football's governing body Fifa is now considering its options.
The German football association (DFB) has made a first step by introducing a policy this season across the amateur and youth game that allows transgender and non-binary players to choose if they play in men's or women's teams – a move it says puts inclusion at the heart of the sport without jeopardising player safety or fairness.
DFB diversity ambassador Thomas Hitzlsperger said the organisation was "leading the way" on inclusion and that other footballing nations, including England, Scotland and Wales, have been in contact to find out more.
But attitudes towards transgender inclusion outside Germany are very different and there are big concerns about fairness and the safety of other athletes.
BBC Sport travelled to Berlin to see the policy in action.
What is the current situation?
The policy was first trialled by the Berlin Football Association in 2019 before being rolled out nationwide for the 2022-23 season at amateur level. It does not extend to professional football.
The rules are in contrast to some other sports, with athletics becoming the latest sport to ban transgender women from competing in female international events. World Athletics president Lord Coe said the decision was made "to protect the female category".
Under the new regulations in Germany, transgender women are not required to lower their testosterone levels to play in women's teams.
In English football, a player's gender eligibility in over-18s football is decided on a case-by-case basis, with transgender women wanting to play in women's football required to show their blood testosterone levels are "within the natal female range" for an "appropriate length of time so as to minimise any potential advantage" – which is required to be reconfirmed annually. The Football Association announced in June last year that it would prioritise "fairness" in a review of its participation rules.
ADVERTISEMENT
Fifa, meanwhile, is taking guidance from legal, scientific and human rights experts as part of a review of its gender eligibility regulations.
Many sports are wrestling with the balance of inclusion, sporting fairness and safety in women's sport at both amateur and elite level – essentially, whether transgender women can compete in female categories without an unfair advantage retained from male puberty.
A 2021 review of non-elite UK sport concluded that "transgender inclusion, fairness and safety often cannot co-exist" and sports should decide their priorities.
It concluded that "testosterone suppression is unlikely to guarantee fairness between transgender women and natal females in gender-affected sports" and there are "retained differences in strength, stamina and physique between the average woman compared with the average transgender woman or non-binary person registered male at birth".
Former Premier League player Hitzlsperger, who came out as gay after he retired from football in 2013, told BBC Sport "football is for all and we've got to make sure that everybody who wants to play football is allowed to play football."
Insisting this is "not about having a huge advantage", the 40-year-old former Aston Villa and West Ham midfielder suggested "it takes more than just being strong and fast, it takes skill and team effort to play football".
Hitzlsperger argued the decision to allow transgender athletes the right to choose where they play in the amateur game should not be considered a danger to women's sport.
'Setting a dangerous precedent'
Germany has a track record on gender issues – becoming, in 2019, the first EU country to allow a third gender on official records. The move allows intersex people who do not fit the biological definition of male or female to choose "diverse" on documents such as birth certificates and driving licences.
It's not known exactly how many transgender and non-binary people live in Germany but it's estimated that less than 1% of the global population is thought to be transgender.
Women's rights campaigners in Germany say the inclusion of even one transgender woman in female sport sets a "dangerous" precedent.
Ana di Lisio – founder of campaign group RadFem Berlin – told the BBC: "There is a clear difference between a female body and a male body and of course we are not going to say 'no you cannot feel this way' or 'you cannot feel that way' but in reality we are playing with our bodies and not with how we feel."
Di Lisio argues the DFB policy will discourage "women working hard to be athletes" and that "women and little girls will feel that they never have a chance".
"I think it is the beginning of the end of the female athlete," she added.
'I'm not the fastest or strongest – but I feel seen'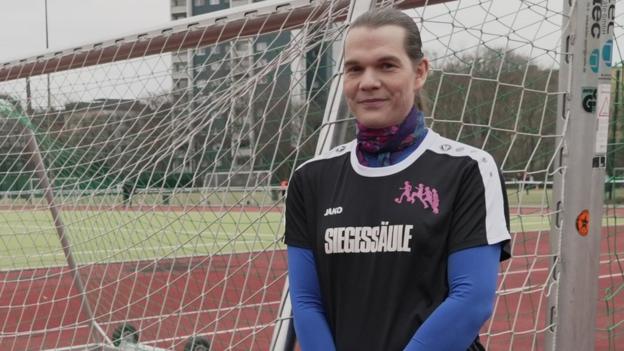 Charlotte Jerke has played as a defender for DFC Kreuzberg in Berlin since she transitioned three years ago.
She used to play for a men's team, but after taking hormones she says her body started to change and she no longer felt comfortable playing alongside men.
"This new rule was just totally necessary because it was like a big grey box – no-one knew where to put us so now we know that we can decide," she says.
The 38-year-old says generally she gets a positive reaction from her opponents but "there are always questions in the back of my head like 'how fast am I allowed to run?' or 'is it OK if I tackle the other player or will they complain?'.
"The first minute is always awkward because then your opponents see you and sometimes you get these funny looks, like 'what are you doing here?'
"I know that there are critics but I don't think I have a physical advantage. I am not the fastest player, I am not the strongest player in my team. I wouldn't play football if I didn't have this team. I just feel so comfortable, so welcomed, so seen and so appreciated."
Jerke says when the rule was introduced, she was "relieved" but is disappointed it doesn't extend into the professional game.
"We are a minority," she says. "We're talking about one to two people in some teams. I just hope other sports will learn from football… I hope there will be a future where we don't divide people by their gender but I don't think this will be in my lifetime.
'We will see how it develops on safety'
When asked about safety, Hitzlsperger told the BBC no issues had been raised so far.
"It's been positive," he said. "But we have to wait and see how it develops and whether there will be any safety issues, but up until now there hasn't."
Hitzlsperger also confirmed that several other nations – England, Scotland, Wales, the Netherlands, Denmark and Belgium, as well as European governing body Uefa -have been in touch with the German FA about the policy.
He added: "It can be an advantage not to be the first one – you can wait and see how it is going. Hopefully they will come to the conclusion it's working well in this country and they will want to do the same in places like England."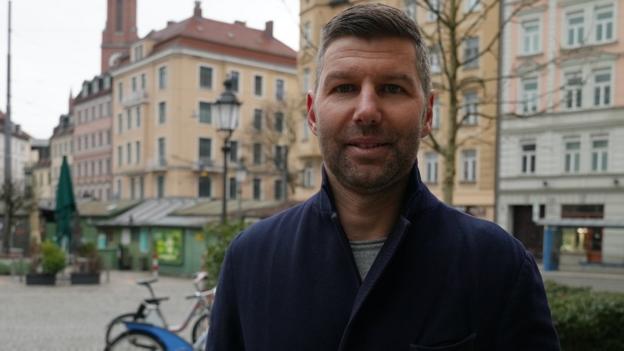 An FA spokesperson told BBC Sport: "Inclusion is at the heart of everything we do at the FA and we are passionate about celebrating and supporting the diversity of our national game.
"Our transgender policy has enabled many positive outcomes for people who wish to enjoy and play football either in their affirmed gender or in a safe and inclusive environment.
"This important subject is complex and is constantly evolving, and as a result, like many other national governing bodies in sport, we are currently reviewing our transgender policy for English football.
"We are consulting with and listening to all of our stakeholders in the game, including engaging with Fifa and Uefa, who are in the early stages of their own consultation process, as well as other international football and sporting governing bodies, including the other home nations."
The Football Association of Wales told the BBC: "In all of our undertakings, the welfare of participants is of paramount importance. We are currently reviewing the policy and are consulting with a wide range of stakeholders."
BBC Sport has also contacted the Scottish Football Association.
Fair Play for Women – which has advised the English FA as part of its review – told BBC Sport: "It's right that football associations are consulting widely to inform their policy reviews.
"Women players and women's groups were not consulted when these trans-inclusive policies were adopted. It's essential that women's needs are properly heard and considered this time."
The spokesperson added: "Sport is inclusive because it has categories by sex, age and disability. Categories must exclude those who do not qualify, so as to ensure fair and safe sport for everyone."
Source : BBC